Our Selection of Electric Fireplaces
Our innovative electric fireplaces allow you to add ambiance and even heat to otherwise impossible spaces. (There's no venting required; plug and play!) Remote controls let you manage the fire from afar. Some of our fireplaces even play music from hand-held and streaming audio devices. How simply perfect!
The 21 E Electric Fireplace
The portrait-style 21 E Electric fireplace by Fireplace Xtrordinair is easy to install, ready for plug-and-play operation, and comes with a choice of optional faces and interiors. This electric fireplace features a pulsating, glowing log set, and the ember bed features patented, realistic LED flame technology. You also have downward-pointing LED accent lights illuminating the logs and interior to give a three-dimensional depth to the fireplace interior. The 21 E plugs into any standard wall outlet or can be hard-wired in. 
What makes the 21 E Electric unique is the built-in audio system that is ready to connect with your iPod, iPhone, mp3 player, or streaming audio. Two built-in speakers, a 24-watt amplifier with high-fidelity playback, and a mini-jack auxiliary connection cable are ready to plug and play. The standard 21 E remote also operates the audio system with on/off and volume control.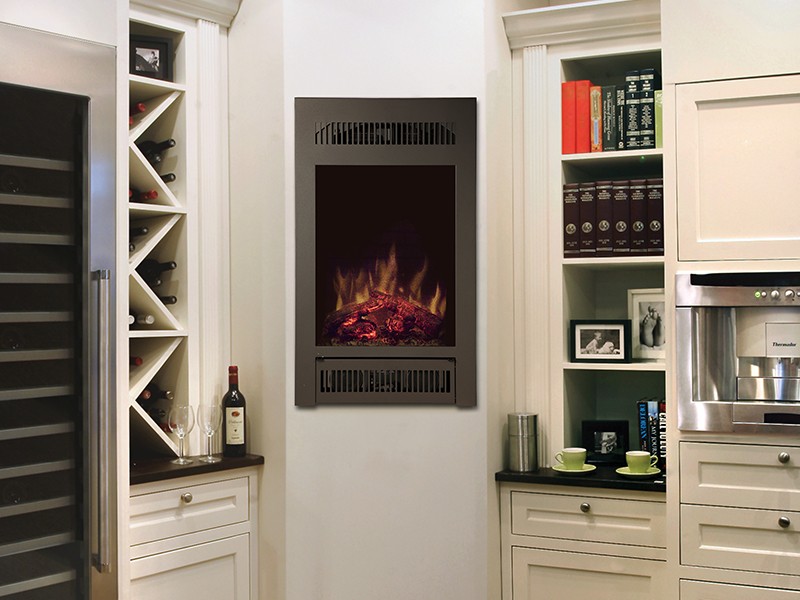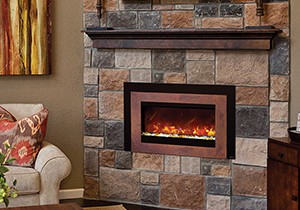 The 38EI Electric Fireplace
Infuse your home with the luxury and warmth of the Fireplace Xtrordinair 38EI Electric Fireplace Insert, and watch as your favorite space turns into an elegant ambiance. Ideal for the tranquility of a bedroom or coziness of a living room, the unique Fireplace Xtrordinair experience shows through in any of its sleek, customizable design options that the 38EI offers. Feel the long-lasting warmth that can heat up to 400-500 square feet and enjoy the gorgeous, rich fire effect that the Fireplace Xtrordinair electric insert brings to any room.
The 38EI Fireplace Xtrordinair electric insert can be tailored to fit the look of any room because it comes with endless sophisticated style selections. It is our smallest-sized insert and will fit most fireplaces, coming with a black glass panel that is 38 x 25 inches and a glass viewing area of 23 3/4 x 9 1/2 inches. Accent fire rocks, multi-color flame backdrops, and four different levels of front and back lighting are just some of the fantastic changeable features the 38EI insert offers.
Ready To Start Your Flooring Project?
Schedule An Appointment
The team at Right Carpet & Interiors in Alamosa, CO is ready to help you achieve your flooring dreams. Whether you're interested in an installation, in-home measure, flooring estimate, or more, we can help!
Fill out the form to the right, and we'll contact you shortly. 
"*" indicates required fields